Chasley Bradbury
Cosmopolitan Experiences :: Vice President + Producer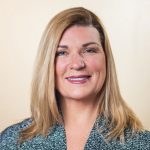 Chasley Bradbury is an event natural. A child of the hospitality industry, Chasley grew up in her parent's restaurant appropriately called "Chasley's." During and after college, the hospitality industry provided an amazing training ground for her future in the Special Event Industry.
This experience, combined with a degree in Public Relations, led Chasley to her marketing and event planning position with Party Arts. Since then, the Special Events Industry has been her passion and has grown her career through many leadership and entrepreneurial roles. Chasley started on the ground floor as a partner in a new company, Metropolitan Catering. Soon after, she became Regional Director of Sales for Wolfgang Puck Catering and Events where she embraced their world-renown business philosophy and high standards of client service. Chasley launched the opening of premier venues across the country and produced events from Boston to Dallas and Chicago to Los Angeles.
Events have always played a meaningful part in Chasley's love for the business. With Cosmopolitan Events, she thoughtfully plans and produces exquisite events and partnered with Josie to build the business in 2007. After taking a few years off to raise her children, Chasley is leading the way with the spin-off business, Cosmopolitan Experiences while producing events for Cosmopolitan Events. It is this experience, dedication to client service, ingenuity and comprehensive understanding of event logistics that allow her to seamlessly plan and execute the most memorable events and programs.
Chasley is active in several professional organizations including International Live Events Association and Meeting Planners International. Chasley serves as Chairperson and committee member for many area non-profit organizations throughout the St. Louis region. Her grassroots approach to fundraising and innovative design and production talents are an asset to any team. Chasley's dedication to family is priority number one as she and her husband Carlos raise their beautiful sons, Maxwell and Theodore.